Get to know "Ampoule"
item to quickly restore beautiful skin.
Has anyone ever encountered a oppressive situation? That the skin must be beautiful in time for urgent work that comes in within a few days or weeks? In addition, we may not have much time to complete every step of the skin care process due to many factors. Today Miss Derma will take you to get to know skincare items like ampoules that are available these days. Powerful and people pay attention We often hear on social media what an ampoule is. So do we need to use it? How is it different from serum?
What is an "Ampoule" or "Ampoule"?
Ampoules are a form of skin treatment. The ampoule formula has been designed and developed to include high concentrations of important substances that are beneficial to the skin. Or focus on sending a high dose of one of the active ingredients, such as hyaluronic acid, vitamin C, vitamin B3, retinol, collagen, and peptides, etc., to be able to directly take care of and improve the skin condition. Spots from various problems, such as dry skin uneven skin tone Dark spots, freckles, dull skin, wrinkles, and other signs of aging that appear before their time. The results are clearly seen by using only a small amount. Therefore, the packaging format that is designed will be in a one-time use container, which we are familiar with in the form of capsules (capsule), A tube (tube) or vial (bottle) that is tightly sealed to protect the important substances inside. With the efficiency of Less is More and Single Use, it can be considered an ideal skincare product with a small size but strong effects that is easy to carry while traveling for today's travelers.
Why do we need to have this ampoule item placed on our dressing table?
As mentioned above, the ampoule has a high concentration of active ingredients. Therefore, the results that need to be corrected can be displayed quickly in a short time. Compared to the abilities of other skincare products It can be said that ampoule is a strategy in itself that uses only a few important substances in the formula. Focuses on attacking by targeting the problem precisely and clearly what needs to be dealt with, such as for radiant skin. for firm skin For skin to be hydrated, soft, and deeply moisturized, etc. For this reason, it makes sense that Miss Derma would like to recommend adding ampoule to the skin care routine of friends, not necessarily only people who are middle-aged and above. Because the sooner you take care of your skin before it causes damaged skin, it's always better. Therefore, at any age you can start using ampoule. In addition, what day do you have to prepare your skin for a big important event like a wedding? Ampoules are like heroes, your trusted skin companion, ready to help boost your skin from problems to make it look healthier quickly. Increase confidence in revealing your skin.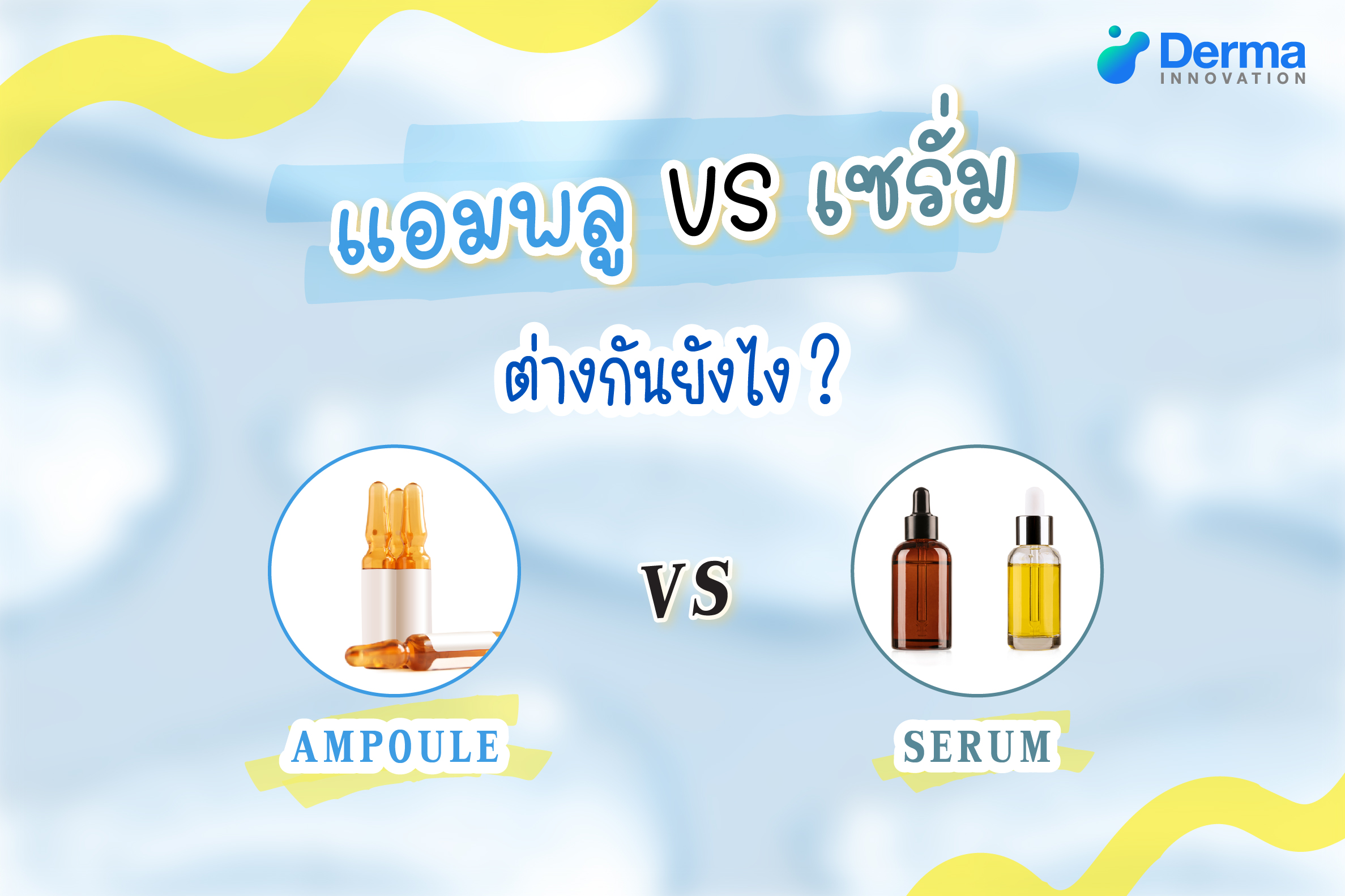 Put simply, it's like a serum that offers even more efficiency. Or you can call it a booster to speed up beautiful skin. The first difference is The ampoule emphasizes quick results within a few hours or a few days. While serums may take a week or more to see noticeable changes in your skin, Therefore, it can be said that the serum focuses on daily skin care for long-term results. Another difference is that the ampoule packaging format is designed to contain a smaller amount per use.
Before finishing this article Miss Derma would like to be another voice to expand the attention sent from the Food and Drug Administration to remind consumers once again. Regarding the use of ampoules/vials classified as cosmetics with packaging in the form of injection bottles. Absolutely do not inject. Focus on external use only according to the law regarding cosmetics. Because there are many advertisements and reviews. Claims that the ampoule or vial is registered as cosmetics through the FDA. It can be injected into the body or used in conjunction with other medical devices to push substances into the skin for beauty. There are only 2 types of injections into the body that the FDA approves: drugs and medical devices. Reading labels and keeping up with the news to prevent life-threatening risks is something that consumers should have. Therefore, please help observe, be careful, and warn those around you who know each other. See you again in the next article.